Wilkes: Thomas Caudill, deeds
October 18, 2018
Thomas Caudill Schoolhouse Grant 1850
Wilkes Co, NC.  In the 1800s, there was a schoolhouse located near what is now 3100 Bethany Ford Rd in Roaring River. It's about 0.9 miles east of the river. The first mention I've found is the 1840 grant to Willis Holloway which has a beginning corner near the schoolhouse. Then in 1850, an 80 acre grant to Thomas Caudill also begins "near the old schoolhouse".
<![if !vml]>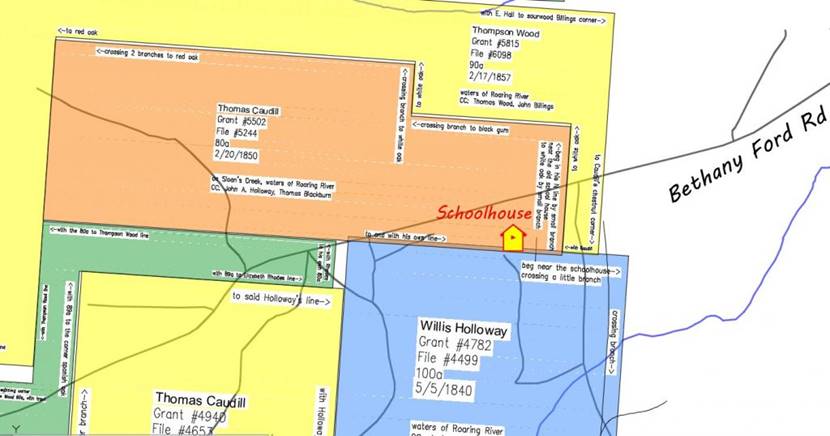 <![endif]>
The Willis Holloway grant was soon purchased by Thomas Caudill, and in 1858 he sold it to David and Elizabeth Edwards (DB B2, p230). It again mentions the "old schoolhouse". The Thomas Caudill property spanned at least a mile E-W along Bethany Ford Rd, and at least a mile N-S between Stewart Creek and what was then called Sloan's Creek to the south. He owned at over 500 acres by the 1870s.
Thomas Caudill was born about 1810 and died in 1898. His sister Polly Caudill married Eli Blackburn, and they lived on the north side of Stewart Creek. According to the Wilkes Heritage book (Vol 1), Thomas was buried in a family cemetery on his land. Does anyone know where that cemetery is? 
<![if !vml]>

<![endif]>
Comments?  jason@webjmd.com