Wilkes: †Emanuel Rose, deeds, Stone Mountain, Garden Creek, John Brown
July 14, 2019
Emanuel Rose Homeplace 1790s
I wonder if Emanuel Rose might be buried at the Brown Cemetery, also known as Garden Creek Cemetery, at Stone Mountain.† After looking at land grants and later deeds, I think thereís a good possibility that he is buried there or nearby.
Emanuel Rose has many descendants even though Iíve only identified 5 of his children Ė daughters mentioned in his will dated 8/28/1794.† If you have Holloways in your family, you probably descend from Emanuelís daughter Mary Ellen who married John Holloway.† If you have Bauguessís in your family, thereís a 50% chance that you descend from his daughter Keziah who became the second wife of Richard Bauguess.† (Iím in this group, twice!)† And many Sparks descendants trace their line back to John Sparks who married Emanuelís daughter Elizabeth.
I wonít try to document everything thatís known about Emanuel Rose here, but Iíll focus on where he lived and died.† On 11/13/1778 he entered 100 acres on Roaring River including his improvements.† After having it surveyed, he received a grant for 70 acres.
Ten years later on 9/30/1788, Emanuel Rose became the highest bidder at the auction of 60 acres that had belonged to George Brewer.† Apparently Mr. Brewer had been convicted of a crime, and his land served as payment.† This land had been granted to George Brewer in 1780.
Here are those two grants.
<![if !vml]>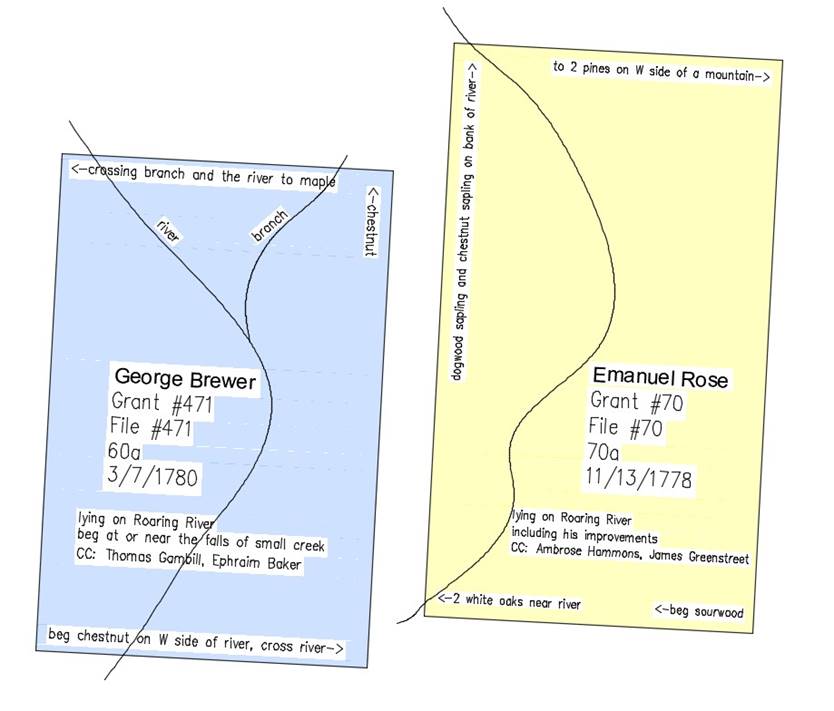 <![endif]>
I believe these two tracts were adjacent to each other and included the area where Garden Creek Cemetery is.† The map below shows these two grants with the cemetery noted at the bottom with the arrow near the river.
<![if !vml]>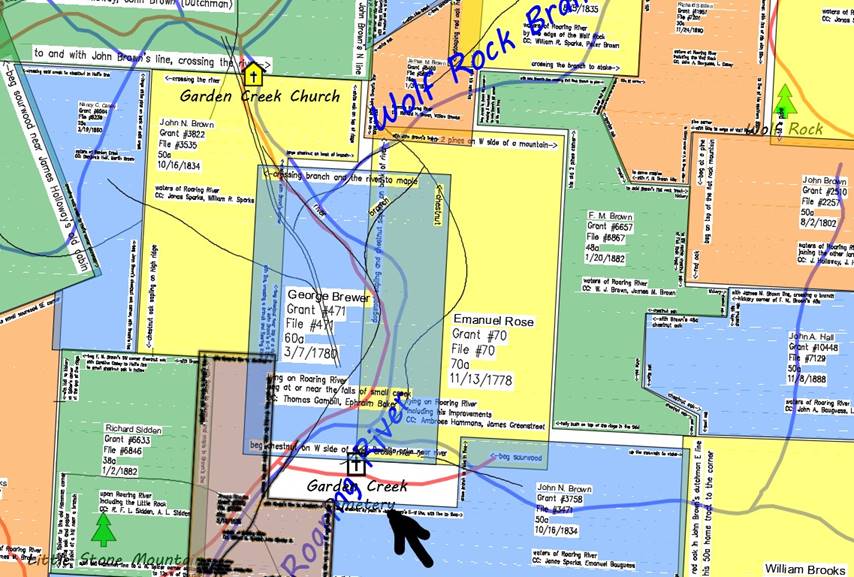 <![endif]>
After studying later deeds and the surrounding grants, I believe these two grants actually overlapped quite a bit.† Instead of Emanuel Rose owning 130 acres here after his purchase in 1788, he probably owned closer to 100 acres.†
As a side note, earlier, in 1780, Emanuel Rose had purchased 440 acres on the Middle Fork of Roaring River.† He sold that land to two different buyers in 1789.† Perhaps he decided he didnít need land at both locations, and that he would make his home along the river near the mouth of Garden Creek.
He wrote his will on 8/28/1794, and it was probated on 5/3/1796.† He mentioned his wife Mary and named five daughters. †On 10/7/1797, his widow Mary sold his 60 acre tract to John Brown.† While I havenít found the deed selling the 70 acre tract, I did find where John Brown Sr sold it to his son in 1832.† In fact, the land is described as being where ďEdmund RoseĒ did live.† (The name was apparently transcribed wrong when it was recorded in the deed book.) †<![if !vml]>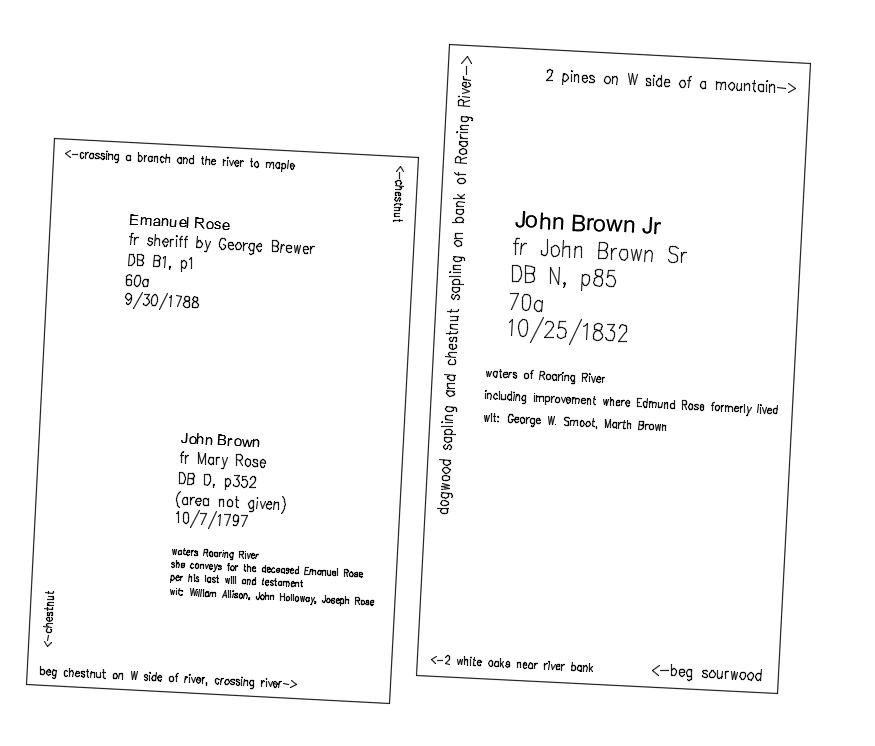 <![endif]>
So both tracts were bought by John Brown whose descendants would remain there until it became part of Stone Mountain State Park in the 1960s. †And the 1832 deed says that Emanuel had previously lived there.† Thereís no reason to believe he wasnít living there at the time of his death, and that means thereís a good chance he is buried on that land.
Perhaps there is a long-forgotten Rose Family Cemetery elsewhere on Emanuelís original land.† Or, in 1795, perhaps Emanuel Rose was the first to be buried in what would later be known as the Brown Family Cemetery at Garden Creek.
To get a better look at these two grants, check out my map of Roaring River Land Grants, grid section B3.
<![if !vml]>

<![endif]>
Comments?† jason@webjmd.com