DNA:  Stokes Brooks, Young Brooks, yDNA, Wilkes
July 15, 2019
The Mystery of Stokes Brooks and Young Brooks
The DNA results are in, and the verdict is clear:  Stokes Brooks and Young Brooks definitely had different fathers. 
Stokes H. Brooks was born in 1802, and his brother Young Nathan Brooks was born in 1805.  They were both sons of Rebecca Brooks who is believed to have never married.  The family arrived in the area of Wilkes and Iredell Co, NC, before 1822.  It was on 1/1/1822 that Stokes Brooks married Clarissa Reynolds in Wilkes Co.  After a quick check, the earliest I've seen Young Brooks is the 1840 Iredell Co census.
The story I've heard is that perhaps Stokes' father was a Mr. Stokes; and Young's father was a Mr. Young.  I've never seen any evidence for that, but it is curious that both are more common as surnames than as first names.
Stokes Brooks was listed as born in Virginia in the 1850 and 1860 censuses.  His daughter Permelia Brooks Adams' 1914 death certificate says her father was born in Halifax Co.  These are the only references I've seen for his birth place.
As for Young Brooks, the 1860, 1870, and 1880 Wilkes Co censuses list him born in Virginia.  Unless something else turns up, Halifax Co, VA, seems like the best place to start looking for them, but I haven't found anything in the written records of Halifax Co for this Brooks family.  
Below is a picture from last year of Young Brooks' headstone at the Brown Family Cemetery near Garden Creek Church at Stone Mountain.
<![if !vml]>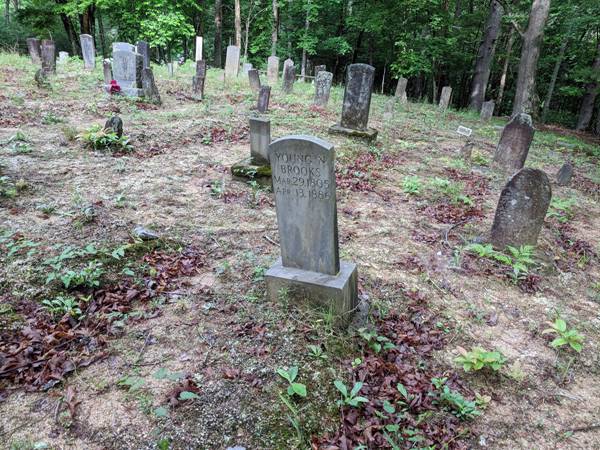 <![endif]>
With an absence of written records, perhaps DNA can lead to additional clues.  Several of my cousins have been generous enough to take DNA tests to help me expand our family tree and learn more about where we come from.  Among those tests, are male descendants of both Stokes Brooks and Young Brooks.
For this mystery, we need yDNA testing.  A yDNA test identifies the lineage of a man's father's father's father's etc line.  Therefore, yDNA testing is only for men.  The other type of DNA test, autosomal DNA, is for everyone. 
Consider two men who are cousins, and they each descend from different sons of their great grandfather.  The next generation is through sons of their grandfathers.  This is called the patrilineal line.  Those two men will have the same markers in their yDNA.
I won't turn this into a yDNA biology class, but the point is that if two male-line Brooks descendants had the same great great grandfather, then they would share yDNA.  What I found is that descendants of Stokes and Young don't share yDNA.  Therefore, Stokes and Young must have had different fathers.
One DNA test is from a great great grandson of Stokes Brooks.  The people around the world who have also taken the DNA test and who share similar yDNA are called his matches.  That list of matches is shown below.
<![if !vml]>

<![endif]>
Notice that no one else in this list has the Brooks surname.  By far, the most common surname is "Long".  While this is not proof that Stokes Brooks' father was a Mr. Long, it's certainly the best guess at this point.  The yDNA test coordinators have put his test in the Long Family Group "L" which has proven ties back to a man named Ware Long who was born in Culpeper Co, VA, about 1720.  Perhaps a son or grandson or cousin of Ware Long is the father of Stokes Brooks.
I also submitted the yDNA test of a great grandson of Young Brooks.  Below is his list of yDNA matches.
<![if !vml]>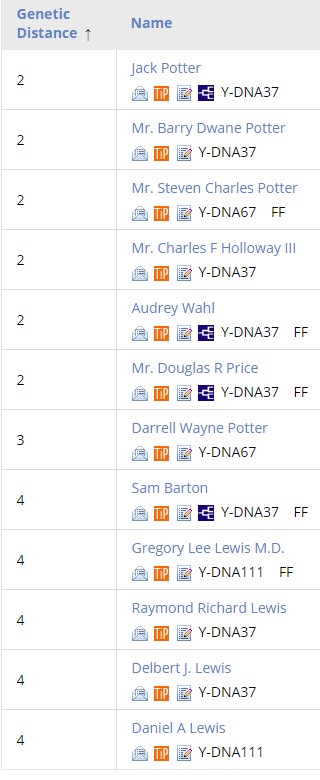 <![endif]>
The most frequent name in the list is "Potter".  Notice that the Potter matches are a genetic distance of 2, while the names toward the bottom of the list have a genetic distance of 4.  That suggests the Potter matches are probably closer cousins.  Initially it appears that the common ancestor is likely through a man named James Potter who was born in NC or GA in 1790.  This James Potter is almost certainly not Young Brooks' father, but perhaps James Potter's great great grandfather was born in the 1600s and was the ancestor of the father of Young Brooks.  This is like a bread crumb that tells us in which direction we should search for more clues.
The yDNA testing has confirmed what was already commonly believed – that Stokes Brooks and Young Brooks had different fathers.  Additionally, it has provided clues as to who their father's actually were.
<![if !vml]>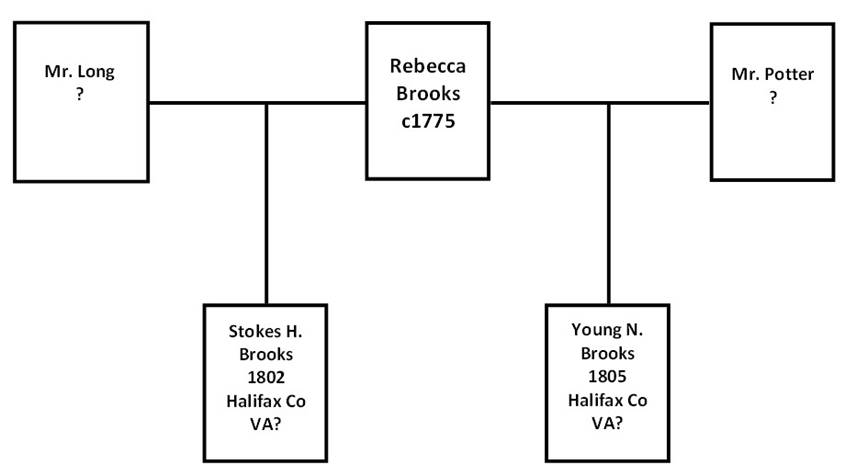 <![endif]>
As more people participate in DNA testing, we'll be able to add more pieces to the puzzle that will provide additional clues to solve mysteries like this.  Eventually we'll learn the names of the fathers of Stokes Brooks and Young Brooks.
If you're interested in DNA testing, the only company that offers yDNA tests is Family Tree DNA.  I use them for all of the tests that I manage.  If you have questions about which test to select, I'll be glad to help.
<![if !vml]>

<![endif]>
Comments?  jason@webjmd.com