Galax: Donithan, †
July 22, 2019
Family of Willie Donithan of Galax, VA
Willie Donithan and his wife Lola Whittington raised seven children in Galax, VA.† Their oldest, Ella Mae, was born in 1909, and their youngest, James Conley, was born in 1923.† My great grandfather Ernest Donithan was their second child born in 1911.† Well, actually he was tied for second Ė he had a twin brother Eugene.
It was only a few years ago that I found out about this part of my family tree.† After doing genealogy research for over 25 years, it was exciting to suddenly have a new branch of families to learn about.† (I thank DNA testing for that gift!)†
Since I already knew so much about the other parts of my family, I felt like I was behind in learning about the Donithan side.† Thankfully Iíve found new cousins who have helped to catch me up on learning about my Donithan ancestors.† Those who have lived in Galax and who actually knew the Donithan family have shared stories, information, and family pictures that I wouldnít have found anywhere else.† Iím very grateful for their help.
Below is a collection of pictures for the family of Willie and Lola Donithan.† Most of the pictures are from the 1930s through the 1950s.† I continue to look for more family photos to add, but I wanted to share this page.† Clicking on the image will open a larger pdf-version of the file.
<![if !vml]>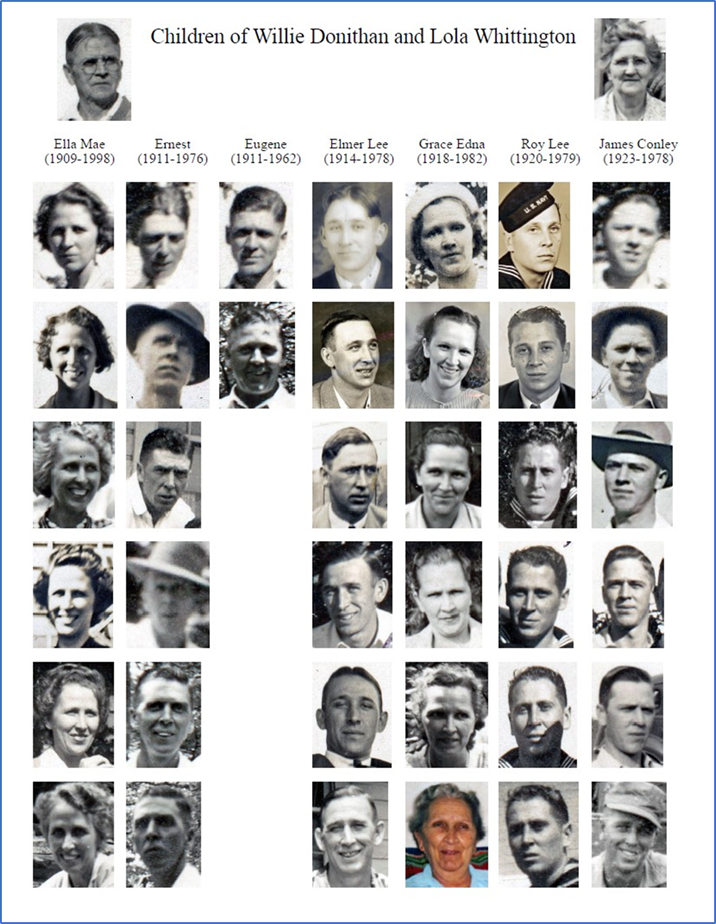 <![endif]>
I look forward to hearing from anyone related to the Donithan family.
<![if !vml]>

<![endif]>
Comments?† jason@webjmd.com