Wilkes: Ditch Creek, John Brooks, Civil War, land grant
August 23, 2019
At Home On Ditch Creek
You never know where the next interesting history tale might pop up.  Today's journey takes us to the banks of Ditch Creek along Oklahoma Rd near the Wilkes and Alleghany border.
On page 51 of the book Log Cabin Families of Stone Mountain, NC, a story is recounted by Annice Brooks Royall about her grandfather John Brooks.  She said he hid out in a cave on the side of a mountain to keep from going to the Civil War.
"At that time he and his wife had at least six living children, Annice's father, William, the oldest child, being no more than 12 years old.  By following his dog the Home Guard found John Brooks and shot him.  He died that night and is buried on a ridge of land bought from Bob Bryan.  Though his grave is not evident, a patch of periwinkle under the trees gives the location (1960)."
John Brooks was my uncle.  I descend from his sister Lucinda Brooks Pruitt (1833-1899).  They were both children of Zachariah Brooks and Sarah Bauguess.
So exactly where did this Brooks family live?  Below is a deed from William Brooks, John's son, to his daughter Nancy Annice Brooks Royall (1879-1958).  Annice is the one who recounted the story.
<![if !vml]>
<![endif]>
Annice received 29 acres on the west end of her father's land in 1897 according to Alleghany DB 12, p525.  The land was at the headwaters of Ditch Creek.  I wonder if any locals know the creek by that name today?
Below is an earlier deed from Wilkes County is from Robert C. Bryan to John Brooks (DB C2, p336).
<![if !vml]>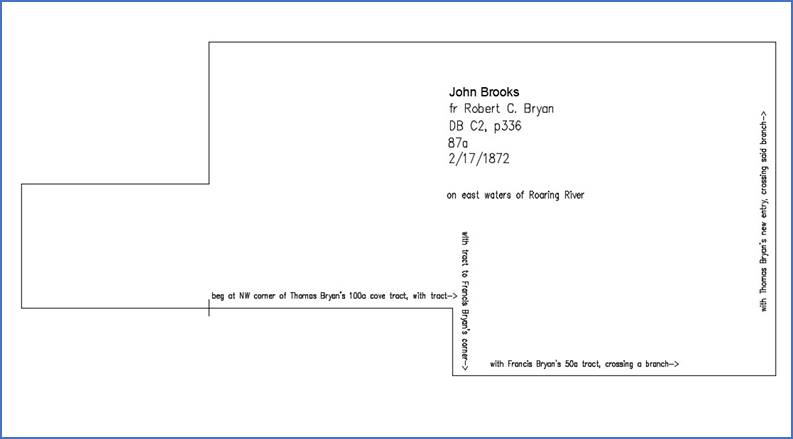 <![endif]>
This deed is dated 2/17/1872 which is well after the Civil War.  So it appears that John Brooks somehow bough this land after he was killed by the Home Guard.  The deed was proven in Wilkes Probate Court in 1876.  My guess is that Robert Bryan informally sold this land to John Brooks during the war, but that the actual deed wasn't made until 1872.  The fact that it was proven in Probate Court suggests (to me) that one of the parties was deceased.
Sometime after 1872, John's son William bought or inherited this land, and in 1897 he sold the western third to his daughter Annice.  In Annice's story, she said the land had been bought from Bob Bryan, and that must be this 1872 deed.
The original land grant was to Robert B. Bryan in 1846 for 100 acres.  The grant includes 13 more acres than the 1872 tract, and that extra portion extends to the south.
<![if !vml]>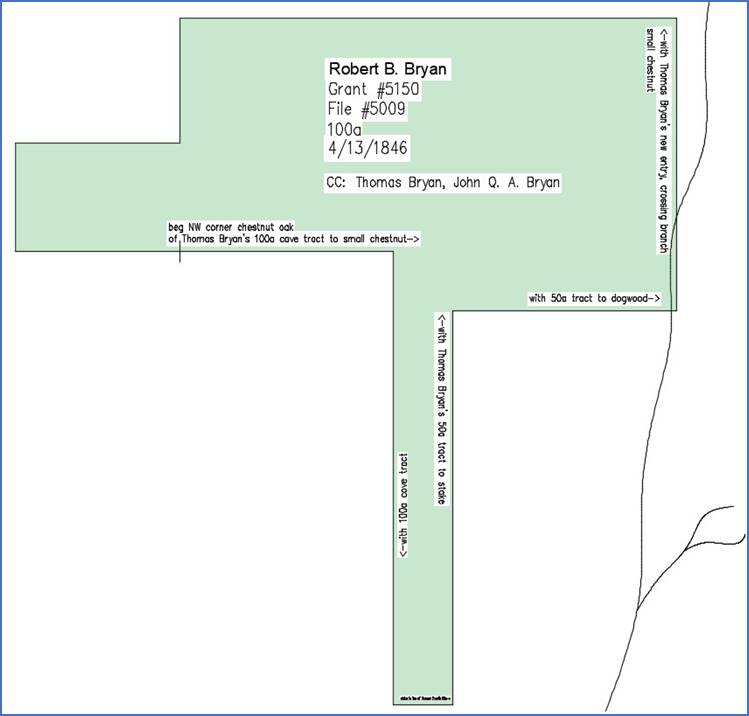 <![endif]>
The northern edge of this grant was located a quarter mile south of present day Liberty Knob Church on Oklahoma Rd.  This is the road that goes up the mountain from Elk Spur Church near Stone Mountain to Highway 21 at Roaring Gap.  The southern portion of the tract is just inside Wilkes County.
This is in tile B4 on my map of grants on Roaring River.  Ditch Creek runs just behind Elk Spur Church and all the way along Oklahoma Rd to its headwaters just below Liberty Knob Church.  The creek on the east side of the grant (shown with the black curving line) is the head of Sparks Creek.
This is the same grant that I sketched in Google Earth.  It just crosses Oklahoma Rd on the west.  If the grant is in the shape of a hammer, then the handle extends south beyond the county line at Stony Knob.
<![if !vml]>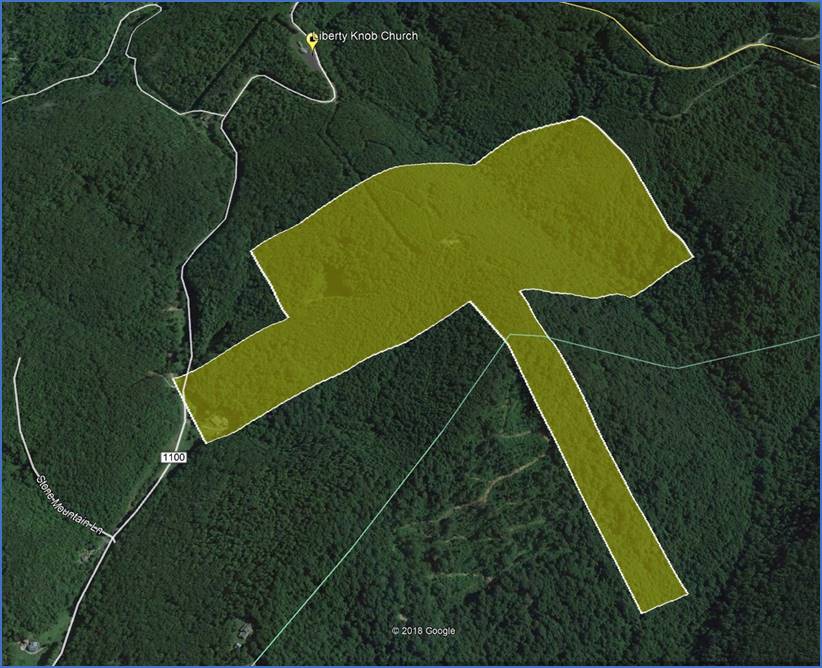 <![endif]>
Annice said that her grandfather was buried "on a ridge of land bought from Bob Bryan".  Notice the ridge that runs from Liberty Knob Church south through the middle of the grant.  My guess is that this is the ridge where John Brooks was buried during the Civil War.  Annice knew where the location was in 1960, marked by a growth of periwinkle.  I wonder if anyone knows the location today.
This is a perfect example of how mapping these original land grants can help with genealogy.  Now I have a good idea of where my uncle's family lived and where he was buried.
<![if !vml]>

<![endif]>
Comments?  jason@webjmd.com