Wilkes: land grants, creeks
September 6, 2019
Running Out Of Creek Names
When I first started tracing my genealogy, I focused mostly on names and dates.  I suppose that's typical of most people.  We need to know who our ancestors were before we start asking questions about what their lives were like.  As I've continued researching over many years, I've become more interested in exactly where my ancestors lived.
If the ancestor is only a few generations back, it might not be such a difficult question.  Maybe their home is still standing or a family member still owns the land.  But as we trace higher up in the family tree, that questions becomes more difficult.  This is a picture of an old homesite in Stone Mountain State Park.
<![if !vml]>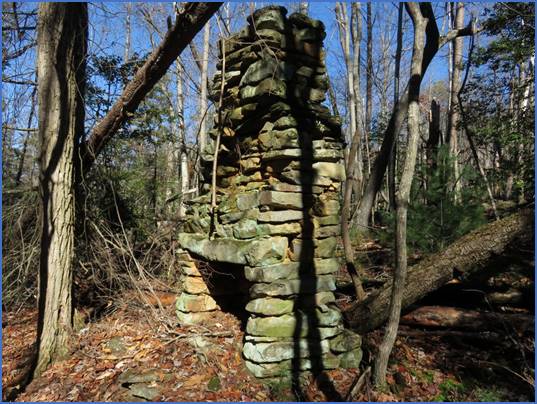 <![endif]>
I don't know who lived in this cabin, but I do know that it's located on a 100 acre tract originally entered by John Holloway Sr in 1826.  He sold the land to Richard Cross in 1846.  This cabin is probably more recent than that, but knowing the history of the land gives this old chimney a story and a history of its own to tell to those who stumble upon it in the woods, far off the trail.
Land records are a good place to start for answers.  I've been digging through the original Wilkes County land grants for over four years, and I'm starting to become familiar with certain families and certain parts of the county.  Even the way the grants are written can give subtle clues about whether the new grant recipient had neighbors or if he was the first to buy a tract in that area.
If I'm lucky, the grant will mention a natural landmark located on the property.  Some grants might mention a mountain by name, but more often a body of water is provided.  Most grants say something like "on the North side of the Yadkin" or "on the waters of Roaring River".  Some go a step farther and might say "on a branch of Little Sandy Creek on the waters of Roaring River".  That can be a big help in locating the property.
This was the home of John Bauguess (1855-1936) on the "waters of Sparks Creek, the waters of the East fork of Roaring River".  He was my great great grandpa's brother.
<![if !vml]>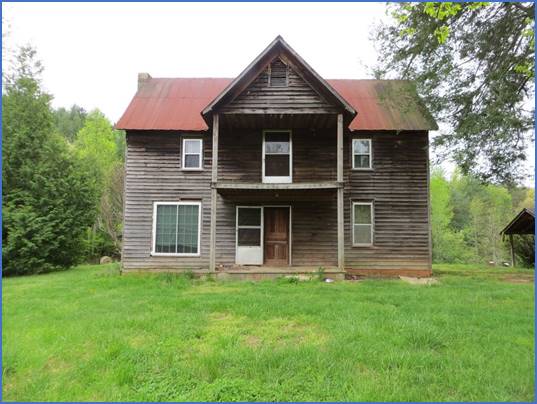 <![endif]>
But sometimes it's not so clear.  I've been amazed at how many creek and branch names have been used repeatedly throughout the county.  And it's not just the present-day boundaries of Wilkes that must be searched for identifying the location of these grants.  Wilkes County extended north to Virginia and west to what is now Tennessee.  Also, in the early years both the eastern and southern boundaries of the county fluctuated.  So Wilkes County grants might be in any county adjoining Wilkes.
Take, for instance, Dugger Creek.  If I find a grant that says "on the waters of Dugger Creek", there are a few options.
<![if !supportLists]>· <![endif]>Maybe it's the Dugger Creek in the southeast corner of Wilkes.  This creek flows south into Little Hunting Creek near Somers Rd.
<![if !supportLists]>· <![endif]>Or maybe it's Dugger Creek or Little Dugger Creek on the Elk River in the extreme western part of Wilkes.  This is near the community of Darby.
<![if !supportLists]>· <![endif]>It seems like I also found this name on the Watauga River, but I can't find it now.
How about Osborne Creek?
<![if !supportLists]>· <![endif]>There's an Osborn Creek that flows into Hunting Creek near Somers Rd in southeastern Wilkes.
<![if !supportLists]>· <![endif]>And there's an Osborn Creek on the headwaters of Reddies River, not far below the Blue Ridge Parkway.
Oh, it's gets better!  What if the grant mentions property on Glade Fork?
<![if !supportLists]>· <![endif]>The first creek that comes to mind is Glade Creek on Little River in southern Alleghany Co.
<![if !supportLists]>· <![endif]>There's also a Glade Creek on the Lower Little River which flows into the Catawba River south of Wilkes.
<![if !supportLists]>· <![endif]>Or, what if it's a misspelling?  Maybe it refers to Glady Fork which is another creek in Alleghany.
<![if !supportLists]>· <![endif]>There's a Gladys Fork on the waters of Stony Fork, north of the Yadkin River.
<![if !supportLists]>· <![endif]>And there's another Gladys Fork on Elk Creek which flows south into the Yadkin in western Wilkes.
I'm convinced the most popular creek name is Camp Branch!  I've counted at least 7 creeks by that name in the area, and there are probably more.  Many creeks no longer go by the names they used 100 or 200 years ago, so some unnamed creeks today might have been Camp Branches back in the old days and in the old records.  If only they could have been more original in naming these creeks!
This is a section of a report I'm working on to summarize certain information from all 8,012 land grants for Wilkes County.
<![if !vml]>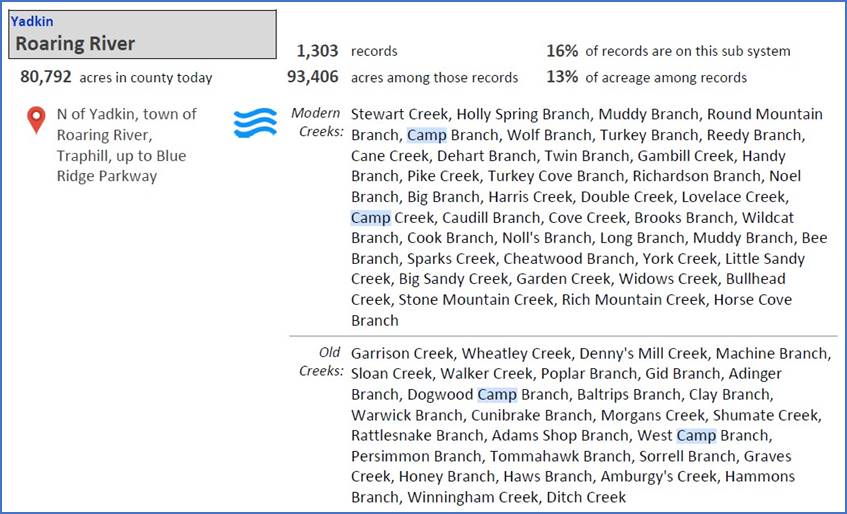 <![endif]>
This shows a summary of grants that I've identified as being on Roaring River.  It includes four different branches that include the word "Camp".  That's part of the challenge of putting this large puzzle together.  If it wasn't challenging, it wouldn't be fun.
Soon I'll post the full summary that includes all waters systems mentioned in the Wilkes grants.
<![if !vml]>

<![endif]>
Comments?  jason@webjmd.com