Alleghany: Colan Williams, Cornwall, mining, DNA
September 30, 2019
The Journey of Colan Williams
Colan Williams arrived on the Australian coast on a mission.† On that day in 1877, and while most of the other passengers aboard the ship were excited about starting new lives in a new country, he had more personal business to tend to.† If he didnít find what he was looking for here, he would sail to America and look there.† One way or another, he would find his father.† And when that time came, he would make his father answer for having left him and his mother alone.
Thatís what I imagine young Colan Williams Jr was thinking when he began his journey from England.† He was only 19 years old at the time.† It was his daughter-in-law who wrote much later that Colan Jr believed his father had abandoned him and his mother.† Parish records from St. Ives, Cornwall, state that Colan Williams Jr was born between April and June 1858 to Colan Williams and Ann Ellis.† Passenger records indicate that his father had left the country the year before, so young Colan had never met his father.† Now that he was old enough, he was determined to find him.
<![if !vml]>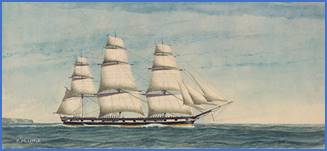 <![endif]>
In 1857, twenty years before Colan Jr arrived in Australia, 36-year-old Colan Williams was faced with a difficult decision.† The copper mines that had sustained him, his family, and several generations before him were no longer profitable.† Foreign competition in an increasingly global economy provided metal ores at a lower cost and with less effort in other parts of the world.† The future of the mining industry in Cornwall did not look good.† He and his wife Ann were married the previous year on 2/2/1856 in St. Ives, and they didnít yet have any children.
Colan needed to find work to support his wife and the family that they would have together, and he had heard about the mining operations in parts of America.† Not only had the gold rush started a few years earlier in California, but there were mining opportunities in the Rockies and the Appalachians as well.† Perhaps he could go to America, earn some money, and then return to his wife.† Or, depending on his level of success, maybe he would send for her to come join him.
That spring, Colan had a conversation with his wifeís 20-year-old brother Robert Ellis.† As a young man who had already spent several years in the mines, he also had concerns about his ability to earn a stable income in Cornwall.† Together they decided to try their luck in America.
Perhaps those were the thoughts in his head as Colan contemplated the path he would take to provide a secure future.† Colan and his brother-in-law Robert Ellis traveled from Cornwall to Liverpool where they boarded the Cultivator on 8/25/1857.† Along with 529 other passengers, they arrived in New York City only 18 days later on 9/12/1857.†
<![if !vml]>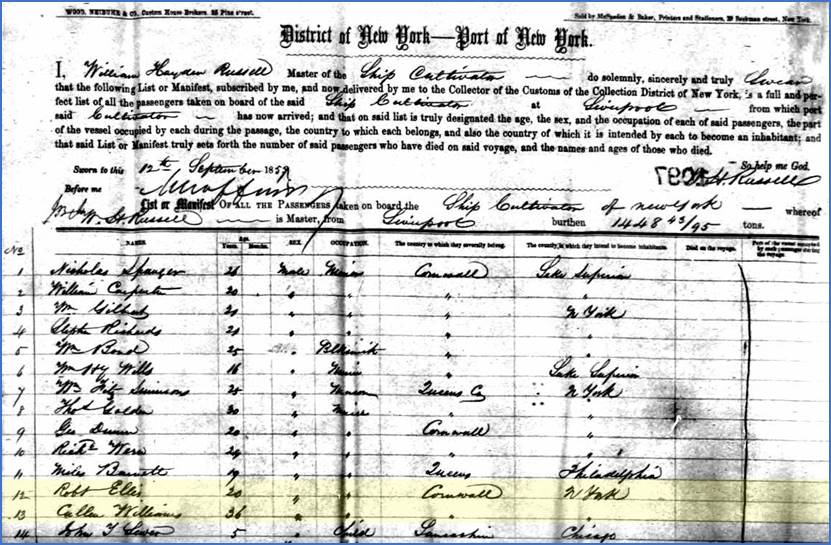 <![endif]>
We know now that Colan Williams had a child on the way, but I wonder if he knew it.† If Colan Jr was born between April and June 1858, then he was likely conceived between July and September 1857.† Colan Sr had already left home on his way to Liverpool by August 23, so at that time his wife was still early in her pregnancy.† At most she was only seven weeks along.† She, herself, might not have known yet that she would be having a child.† If that was the case, would Colan have still come to America if he had known about the baby?† Would his wife have come with him?† I wonder about these things because my existence is dependent on him making that journey exactly as he did.
After arriving in America, Colan and his brother-in-law Robert soon parted ways.† Robert is next found in the 1860 census living in Houghton Co, Michigan, in the northernmost part of the state where copper mining was a thriving industry.† In that census, he was 22 years old, and his new wife Emily was 19.† He was a miner, and they had both been born in England.† A few years later, it appears that they moved to Australia with a young daughter named Ann.
Colan is next found in Ashe Co, North Carolina, where his marriage to Patsy Irwin was recorded on 9/25/1858.† Thatís right, 13 months after arriving in a new country, Colan had married and was starting his life over again.†
<![if !vml]>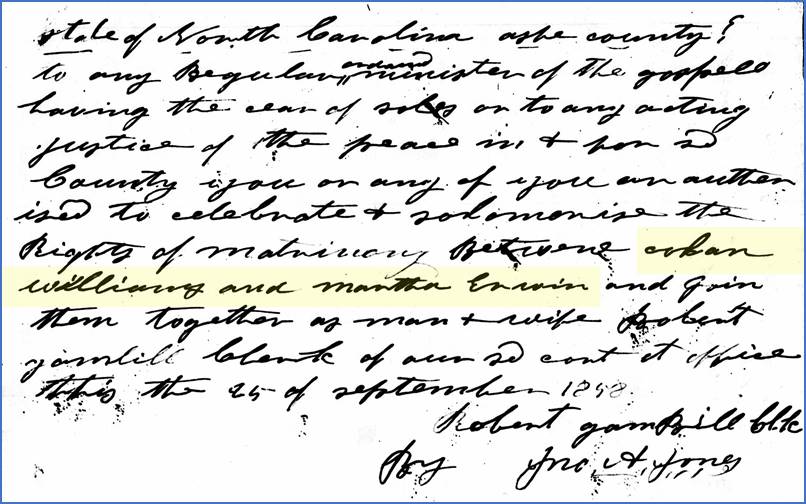 <![endif]>
We might never know what Colanís plans were when he left Cornwall in 1857.† Maybe he truly intended to return soon, but he changed his mind when he found the mountains of North Carolina and the lady who would become his wife.† On the other hand, maybe he told his wife Ann that he would return, but secretly he had no plans to do so.† I imagine his wife and her family thought he would return.† After all, Colan left with his wifeís younger brother.† I wouldnít expect Robert to assist Colan in abandoning his sister.† But since we donít know the family dynamics, we can only speculate about Colanís true intentions.† The picture of Colan Williams below is from a cousin, and perhaps it was taken about the time he arrived in America.
<![if !vml]>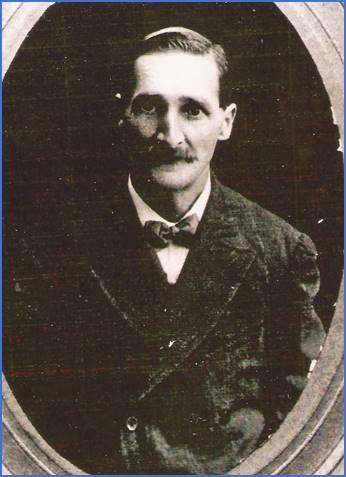 <![endif]>
Letís take a minute to learn more about Colan Williams Sr.† He was born on 4/15/1821 in Gwinear, Cornwall, to parents Colan Williams and wife Mary.† The name ďColanĒ seems to have been very popular with this family.† In fact, it appears that the previous four generations all shared this name!† Iíve seen it spelled several ways including Colan, Colin, Colon, and Collin.
The 1841 England census lists Colan Williams as a teenager in Gwinear Parish at Gwinear Downs.† They were in Penwith Hundred, Phillack Rigistrarís District 7.† Their ages are rounded down to the nearest 5.† As noted above, his parents were Colan and Mary.† He and his brother Emanuel were between age 15 and 19.† A sister Mary had reached the age of 20.† Also in the household is 6-year-old Caroline Mitchell.
<![if !vml]>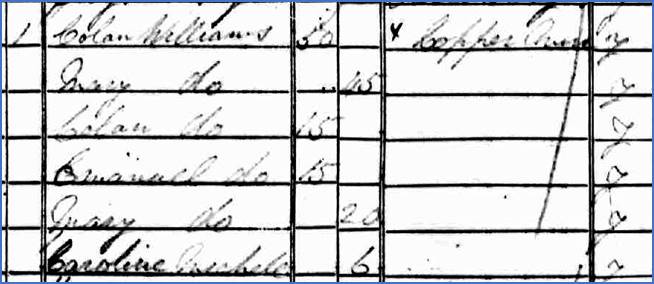 <![endif]>
Weíve mentioned Colanís marriage to Ann Ellis in 1856 and his marriage to Martha Irwin in 1858, but Colan had been married before.† Ann and Martha were his second and third marriages.† He was first married on 7/11/1846 to Johanna Oats in Gwinear.† Their family was listed in the 1851 Gwinear Parish census with a son William who was born in 1849, and a son Samuel who was born in 1851.
<![if !vml]>

<![endif]>
Itís not clear what became of Colanís first family, but perhaps this listing from the 1861 St. Hilary Parish census provides a clue.† It lists William J. Williams (age 12) and Johanna Williams (age 9) as nephew and niece to the head of household.
<![if !vml]>

<![endif]>
Perhaps William J. Williams in this 1861 census is Colanís son who was listed in 1851.† And perhaps Johanna is his 9-year-old daughter who would have been born after the 1851 census, having been named after her mother.† Itís possible that Colanís wife Johanna and son Samuel had died, and his two other children were living with other relatives.
A New Home In North Carolina
When Colan Williams Sr arrived in America in 1857, he was starting over Ė whether he originally intended to or not.† He had married his third wife Martha (Patsy) Irwin in the mountains of North Carolina in 1858, and that part of Ashe County became Alleghany County in 1859.† Patsy already had two daughters, and together she and Colan had four more children born between 1859 and 1868.
Their oldest child Elijah was presumably named after Patsyís father Elijah Irwin.† Emanuel and Mary were likely named after Colanís own siblings.† Their youngest child John M. Williams was my great great grandfather born in 1868.† The picture below is of John when he was about 6 years old.
<![if !vml]>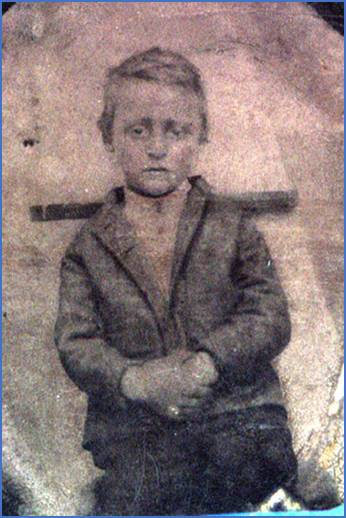 <![endif]>
Colan Williams was listed on the muster roll of the 5th NC Senior Reserves which was part of the Confederate Army during the Civil War.† This unit often served as prison guards at the camp in Salisbury.† Many soldiers including Colan were absent when roll was taken on 2/28/1865.†
Colan bought about 40 acres on the headwaters of Elk Creek in 1875 and 1876.† Before that time, he was likely living on nearby land owned by his wifeís family.† In 1880 Colan is living with his family as expected in Alleghany Co, but thereís an interesting record from 1885.† Thereís an 1885 Gilpin Co, Colorado census that lists a man matching Colanís description living with another family.† He is age 60, a boarder with the Karman family, and he is a miner from England.† He is listed as married, but his wife is not with him.
<![if !vml]>

<![endif]>
Gilpin Co, CO, was a booming mining town in the 1880s.† It began as part of the Colorado gold rush in 1859, and the news quickly drew in prospectors from around the country and the world.† Many immigrants made their way to this area west of Denver, particularly after the arrival of railroads in the 1870s.† Hundreds of mines were created in the area in search of gold.
<![if !vml]>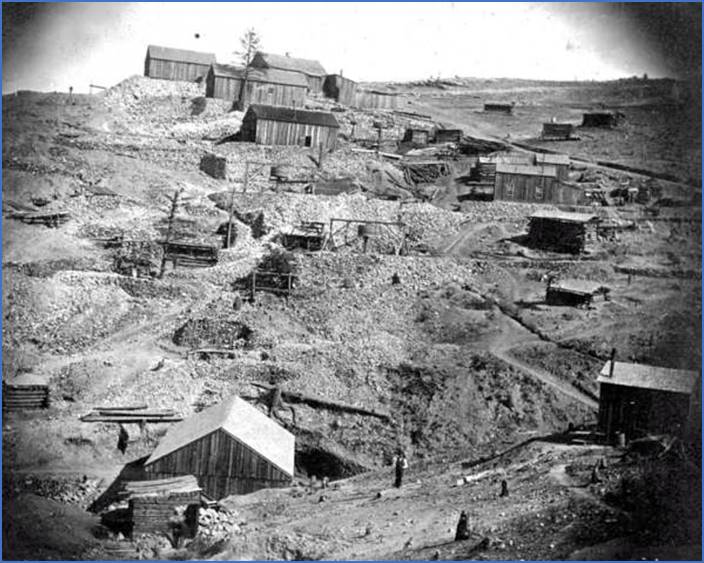 <![endif]>
This 1880 picture (below) of Central City, CO, gives a sense of just how large this mining town was.† Only twenty years earlier, this town didnít exist, but the possibility of finding gold had turned the area into a major city.† Perhaps Colan Williams Sr was among those who hoped to strike it rich.† He might have left home in North Carolina and traveled by train to spend a few months or maybe a year in the mines of Colorado.
<![if !vml]>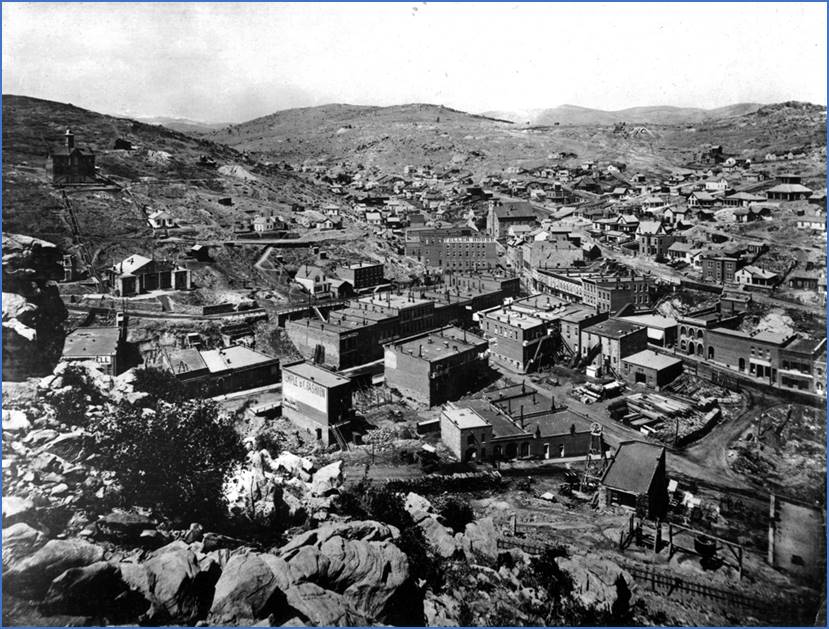 <![endif]>
In the 1880s, Colan Williams Sr was living in North Carolina except for a period of time when he was likely living in Colorado.† This is a good time to step away from his story and revisit the search being conducted by his son Colan Jr.† Years later, his daughter-in-law remembered that Colan Jr first searched in Australia for his father.† After three years, approximately 1880, he hadnít found him, so he went to America to continue the search.† It was remembered that one of the places he searched was in Montana.† Itís possible that father and son were fairly close to each other at the same time.† Gilpin Co, CO, is about 700 miles away from Montana.† Thatís not too far considering that Colan Jr had searched for his father on three continents.
Colan Jrís search ended after seven years, perhaps in 1884 or 1885, when he was blinded in a mining accident.† He survived the accident, but never regained his sight.† He was forced to return home to Cornwall without having succeeded in finding his father.
Despite his blindness, the younger Colan Williams led a very successful and fulfilling life.† His great grandson shared an impressive two-column obituary from the local newspaper that shows how much he was respected in the St. Ives community.† Below is a portion of that obituary from 1935.
<![if !vml]>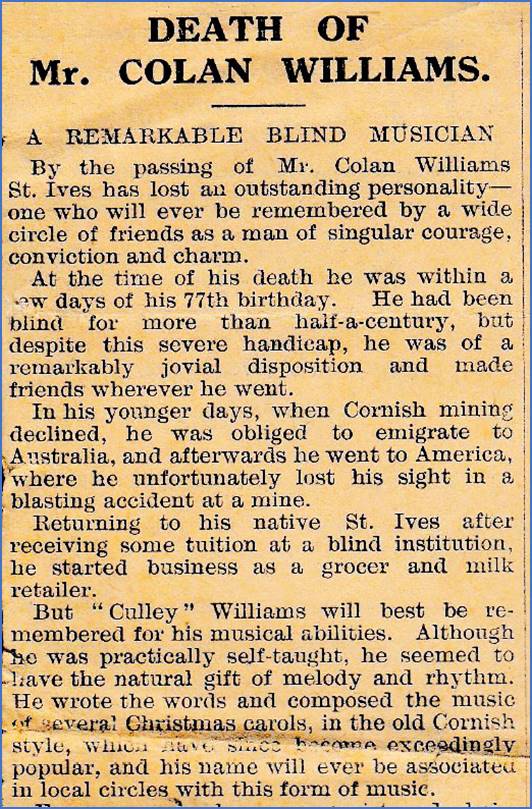 <![endif]>
Perhaps Colan Williams Sr left Colorado at about the same time his son and namesake left to return to Cornwall.† He returned to his home in the mountains of North Carolina where he died on 9/30/1897.† He was buried in a family cemetery near his home.
<![if !vml]>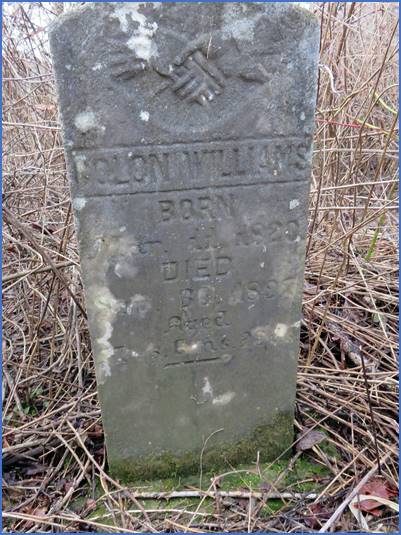 <![endif]>
I never would have learned about the family of Colan Williams Sr in Cornwall without information shared by Andy Bell who lives in England.† We contacted each other after discovering that his DNA test was a match to the test of one of my Williams cousins.† After comparing notes, we quickly discovered that we both had a Colan Williams in our family tree.† My ancestor Colan Williams Sr was the father of his great great grandfather Colan Williams Jr through a marriage that I previously didnít know about.† This means that Andy and I are half fourth cousins.† That sounds very distant, but the story that weíve been able to piece together makes it seem like we arenít such distant relatives after all.
This serves as a great example of what can be learned through a combination of research, DNA testing, and sharing information.† Itís given me a better understanding of the events that shaped the life of my ancestor.† As more people participate in DNA testing, thereís a chance we could learn more about Colan Williams.† In addition to my cousins in England, it looks like some of the Williams family moved to Australia and New Zealand as well.† Cousins living in those countries might have their own pieces of the puzzle to contribute.
<![if !vml]>

<![endif]>
Comments?† jason@webjmd.com