Wilkes: Moravian, Cossart, Lenoir
March 23, 2021
Moravian Land In Wilkes County
The Morvavians received two Granville Grants totaling almost 9,000 acres in 1754 in what is now Wilkes County.  The location of the tracts is shown on an old map that precedes page 1 of the Wilkes Heritage Book Vol. 2.  The western tract was 3,840 acres, shown below shaded in blue.  It's surprising how much it overlaps with the W. Kerr Scott Reservoir.
<![if !vml]>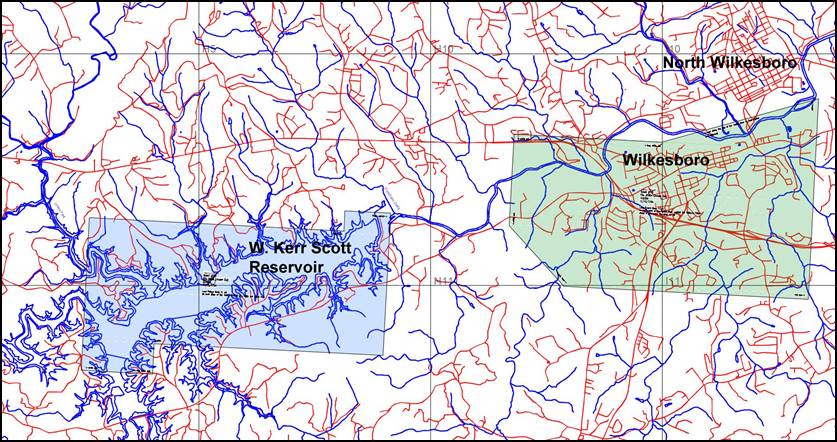 <![endif]>
The other tract (shaded green) is down stream, mostly on the south side of the Yadkin River, covering 4,933 acres.  The northwest corner is close to Walmart on Hwy 421.  The northeast corner includes the Rolling Pines Disc Golf Course.  It also includes Wilkes Community College.  Moravian Creek flows northward across this tract into the Yadkin River.
Just think, Old Salem could have been in Wilkesboro!  But after buying this land, the Moravian scouting party continued looking to see if they could find a larger section of land that suited their needs even better.  They found what they were looking for 50 miles to the east, and this area became Bethania, Bethabara, and then Salem.  That Wachovia tract was 98,985 acres -- more than 10 times the size of the two tracts they bought in Wilkes!
The Moravians never settled on their Wilkes Co land.  It remained in the possession of their representive Henry Cossart who had filed paperwork for the purchase in 1754.  Henry Cossart died before 1776, and his heir was his son Christian Frederick Cossart of Ireland who had never been to America.  In 1772 Christian Cossart had empowered Frederick William Marshall as his power of attorney.  Marshall was instructed to sell and dispose of the lands in his name.
But Frederick Marshall returned to Europe in 1774, and his own power of attorney was John Michael Graff, a member of the Moravian community.  In July 1778, Graff sold the land to Hugh Montgomery for £2,500.  In 1779 Montgomery conveyed the land by deed to trustees or their survivors.  The lone adult survivor was John Brown who held the land for Montgomery's two daughters until they reached adulthood.  One would later marry Montford Stokes, and the other would marry James Wellborn.
Meanwhile, William Lenoir had been buying this land and renting it out.  John Brown took Lenoir to court, and the series of cases lasted 30 years.  One of those cases was Benzien v Lenoir on page 154 of the North Carolina Reports book, Volume 5 from 1808.  The eventual verdict was that Lenoir lost thousands of acres and a large sum of money as a result of his attempt to obtain land that had already been claimed.
The Moravian land in Wilkes County had a complicated line of ownership.  More details can be found in the various court cases or in this summary. 
<![if !vml]>

<![endif]>
Comments?  jason@webjmd.com