Wilkes: Traphill, Holbrook, White
March 31, 2021
Holbrook v White
In 1883, Charles W. White was a 26-year-old teacher at the Traphill Institute.  He had been teaching at the school for five years after graduating with a bachelor's degree from Trinity College near his home in Randolph County.  While continuing to teach, he acquired a master's degree in 1880.  He was an educated young man with a promising future, but in the tight-knit Traphill community, he was still an outsider.  One wrong move would quickly turn his friends and employers into his worst enemies.
At the Spring Term of Wilkes Co, NC, Superior Court in 1883, Hardin S. Holbrook brought forth a complaint that Charles White had executed a bond to him for $1,000 on 8/9/1882.  White had promised to pay back half of that amount within six months and the other half within 12 months.  As collatoral for the loan, White put up one acre of land and a school book of accounts amounting to $400.  The account book was likely a list of IOU's that were due to White by members of the community.  Holbrook's complaint went on stating that White had only paid $35 of the first $500 payment, and that the balance was past due.  He asked that the court pass judgment against the defendant.
<![if !vml]>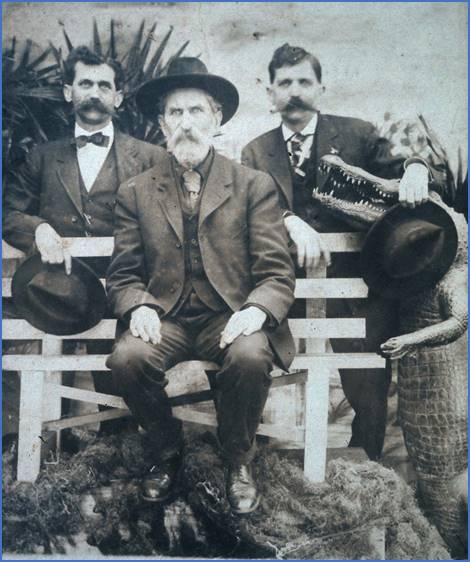 <![endif]>
Hardin S. Holbrook (1835-1935) with two of his sons Ralph and James
(Wilkes Community College Slides Collection)
Three weeks earlier White had been summoned to appear at this court session to make his case against the allegations.  If he failed to show, he risked judgment against him.  Still yet, White was not present when the case was brought before the judge that Thursday morning in early April.  The judge had no choice but to rule against White and in favor of Holbrook.  White had 90 days to make the payment.  Otherwise the one acre of land would be sold and Holbrook would take possession of the account book.
It's worth noting that the court appointed a commissioner to prepare the land for sale.  That commissioner was Joseph Holbrook, the brother of the plaintiff Hardin Holbrook.  The following month, the sheriff appointed a committee to "assist in removing the property of the defendant" from the house where he had been living.  The deputy in charge of this committee was Robert B. Bryan, who, perhaps not coincidentally, was the brother-in-law of the plaintiff.  It's understandable if you're getting the feeling that there might have been a conflict of interest in favor of Hardin Holbrook, but that issue is never addressed in the records.
Charles White's Version
It was on July 2, 1883 – three months after the case was first brought before the court – that Charles White issued his statement in Superior Court.  He first wanted to explain why he had been absent back in April.  He said that he had employed Isaac C. Wellborn as his attorney, and that he had requested the assistance of Col. Robert Armfield.  Wellborn was a 32-year-old lawyer based in Wilkesboro.  Armfield was a former Lt. Col. in the Confederate Army and a politician who had previously lived in Wilkesboro, but was now living in Statesville. 
White's statement continued by saying that Wellborn told him his case wouldn't be brought up until Friday, and that he didn't need to be there all week.  White had planned to arrive on Friday, but on that day "he was quite sick, so much so that he could not attend to his ordinary employment at home, to wit teaching school, and was confined to his house and a greater part of the time to his bed for several days".  He was so debilitated by his illness that he was unable to make the trip to Wilkesboro for the purpose of attending to any business.  It was his understanding that "his counsel could and would file an answer for him".  In fact, he thought that had occurred until a messenger from Sparta notified him that the case had continued on without him.
The previous August he had left Traphill – or, perhaps fled would be a more accurate description – and returned to his home in Randolph County.  Within five days White claimed that he was taken under false arrest and brought back "under close guard" to Traphill.  He said that the mortgage and $1,000 debt is only claimed by the plaintiff because of the alledged seduction of Nancy Jane Holbrook.  He was forced to sign the mortgage at the insistence of Holbrook and several of his friends including John Q. A. Bryan, who was another of Hardin Holbrook's brother-in-laws.
White said that Holbrook "has a large number of relatives who were there present and armed with guns and pistols guarding this defendant and that before said mortgage was signed, the said John Q. A. Bryan, acting for and in behalf of the said H. S. Holbrook, approached this defendant in an excited manner and said that blood was getting my high among the said relatives, that they were much enraged against this defendant and that he would not be responsible for the consequences, but that if this defendant would make the compromise proposed, all would be satisfactory and they would restore him to his liberty".  Fearing for his life and moved by the belief that they would cause him bodily harm, he signed the mortgage. 
<![if !vml]>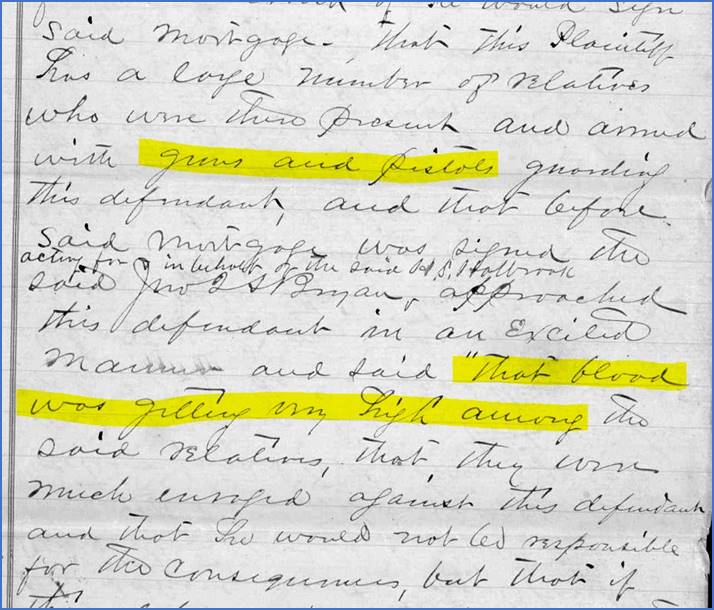 <![endif]>
White claimed that threats were made against him
He said that he was not guilty of the seduction of Nancy Jane Holbrook.  He had been informed that she was "not a woman of virtue" and witnesses would back him up. 
Nancy Jane Holbrook was the daughter of Hardin S. Holbrook.  The 1880 census lists Hardin Holbrook with his wife, three sons, and daughter Nancy.  Also in the household were two laborers along with Charles White, teacher.  Yes, just two years earlier, White was living in the same house as the Holbrooks!  It was in March of 1882 that he purchased his one-acre tract which was a short distance up the hill from the Holbrook house.  Perhaps he had become comfortable as the local teacher, and he wanted to settle down with a place of his own, allowing himself to move out of the Holbrook home.
<![if !vml]>

<![endif]>
1880 Wilkes County census, Hardin Holbrook family
Nancy was his student and his landlord's daughter.  She was seven years younger than White and was 18 years old when she became pregnant in March 1882.  Five months later, White escaped from Traphill in an attempt to save himself from the wrath of her family.  But within five days he had been found and captured in Randolph County, and he was brought back for questioning by the Holbrooks and their extended family.
White asked the court to reverse its decision and reinstate him as the owner of the land.  He also asked that the false charge of horse stealing be dropped, but it was too late.  His house and land were sold on August 17, 1883, when John P. Holbrook became the highest bidder at $500.  John P. Holbrook was the plaintiff's cousin.
<![if !vml]>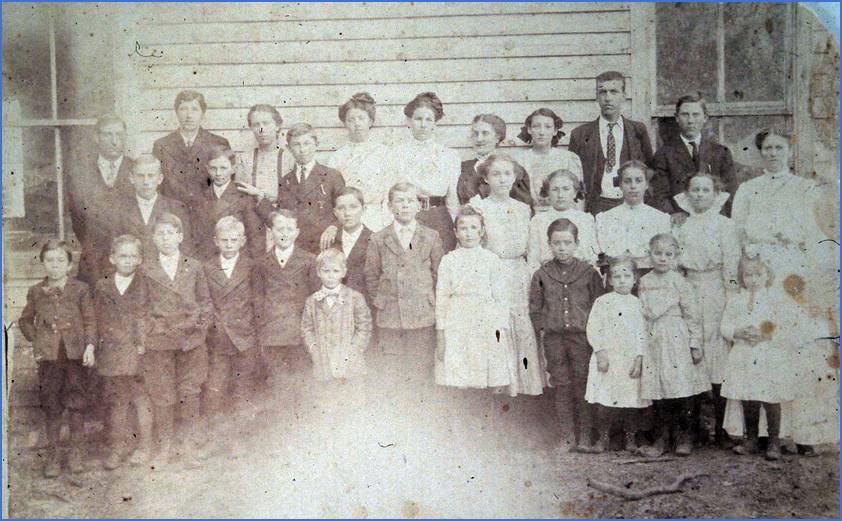 <![endif]>
Undated photo of a class at Traphill Institute
(Wilkes Community College Slides Collection)
The Story Makes the Papers
An evocative newspaper article dated August 10, 1882 provides information missing from the court records.  This was one day after White had been forced to sign the mortgage document against his will.  The Carolina Watchman, based in Salisbury, was one of a number of papers who printed an article from the Statesville Landmark.  It says that Prof. C. W. White had been conducting school at Traphill for at least five years, drawing pupils from a number of counties with over 100 students.
<![if !vml]>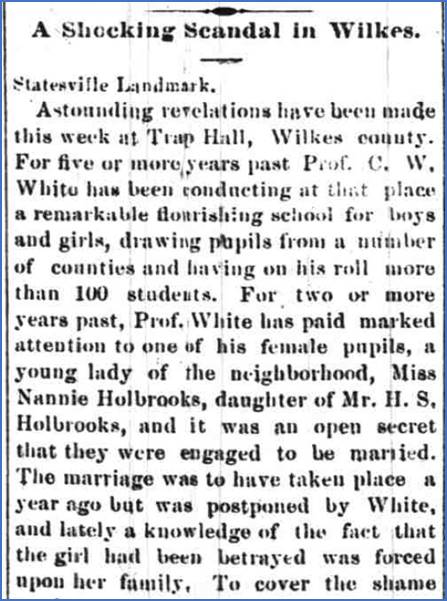 <![endif]>
Carolina Watchman, August 10, 1882
"For two or more years past, Prof. White has paid marked attention to one of his female pupils, a young lady of the neighborhood, Miss Nannie Holbrooks, daughter of Mr. H. S. Holbrooks, and it was an open secret that they were engaged to be married.  The marriage was to have taken place a year ago, but was postponed by White, and lately a knowledge of the fact that the girl had been betrayed was forced upon her family.  To cover the shame as far as possible, arrangements were made for her immediate marriage to White, but, at the appointed time, one day last week, he was found in his room in a stupor from the effect of a half a vial of laudanum which he had taken.  Recovering from the effects of this he appointed last Tuesday evening at 6 o'clock for the marriage.  Monday night he had his brother, William White, to steal for him a horse from William Cheatwood, and mounting the horse at 1 o'clock Tuesday morning, he rode to Statesville, arriving here in time to take the eastern train that night.
<![if !vml]>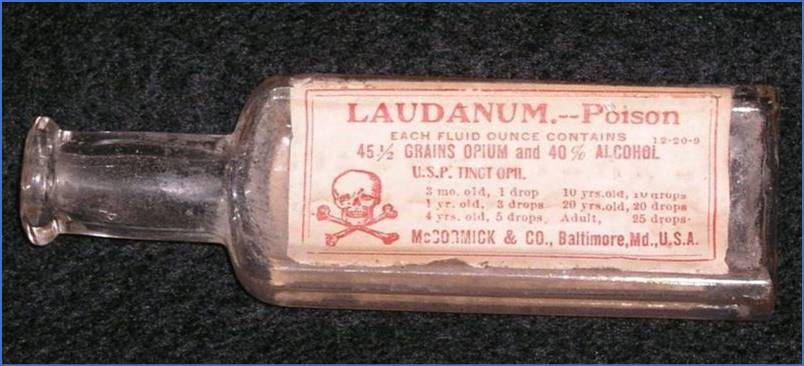 <![endif]>
Bottle of laudanum
"Capt. Abe Bryan, an uncle of the deceived and ruined girl, arrived here Wednesday night and commenced telegraphing in all directions.  In response to one of his messages, he received a telegram yesterday from the policeman at High Point, informing him that he had White in custody at that place.  Accompanied by Mr. W. M. Walker, Capt. Bryan left on the 1:30 train this morning for High Point, and will arrive here tomorrow morning with the culprit and take him on to Wilkes.
"William White was arrested for the theft of the horse (which was recovered here) and confessed to everything.  C. W. White is a graduate of Trinity College, and a young man of talent who stood high in the church and the community.  He is from High Point originally we believe, and, as stated above, has lived in Wilkes about five years.  The fall term of his school, which was an exceedingly prosperous one, was to have commenced next Monday, and several young men on their way to Traphill to enter it at the beginning of the session were in Statesville yesterday having been turned back by the news of White's atrocious conduct and his flight.
"Miss Holbrooks is of a highly respectable family, and, with the utmost indignation against White on account of his baseness, is mingled a general public sympathy for her."
Two Sides To Every Story
So where does this leave us?  On one hand, White claimed that Hardin Holbrook effectively stole $1,000 from him while threatening him with harm if he didn't sign the mortgage.  This was in retaliation for his alleged involvement with their daughter Nancy, a claim which he steadfastly denied. 
The newspaper article says that he and Nancy had planned to get married the previous year, but that didn't happen.  However, due to her pregnancy, the family insisted that they must get married right away.  After first seemingly agreeing, he soon changed his mind.  He drank a bottle of laudanum which is a potent medicine consisting of opium and morphine that can be lethal even in very small doses.  At that time it was sometimes used in attempted suicides.
Moving Forward
Nancy delivered a son on December 10, 1882.  He was named Ernest Dewitt Holbrook.  Ten years later, she married Charlie McCann, and they had a daughter in 1894.
It would be easy to imagine that the harrowing events of 1882 and 1883 ruined the future of Charles White, but that doesn't seem to be the case.  A biographical history book from Missouri includes summaries about the lives of prominent citizens, and one of those citizens is Charles W. White.  Regarding his early life, it says that he taught at Traphill Institute for five years until 1883 when he came to the town of Houston, Missouri.  There, he opened an Academy which continued for many years due to his "energy and perseverance".  He is credited with turning an almost non-existent school system into a thriving graded school with 223 pupils by 1887, just four years after he had arrived.  The Houston Academy and its successor the Houston Institute were operated by Charles White and would become the basis for the town's high school in the early 1900s.
<![if !vml]>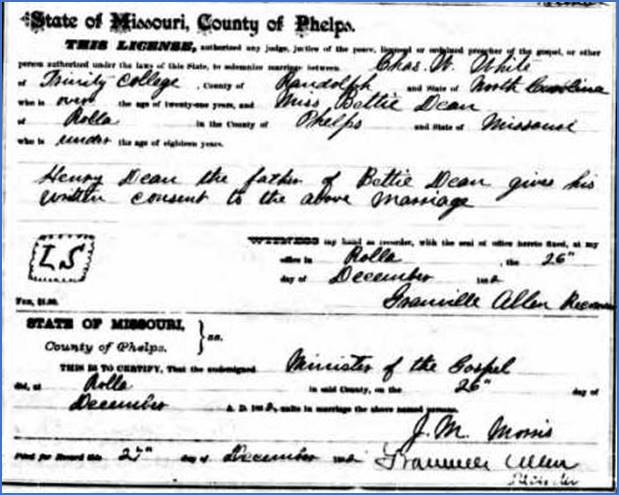 <![endif]>
1882 marriage of Charles White and Bettie Dean in Phelps Co, MO
White seems to have adjusted to life in Missouri quite easily and quickly.  He married Bettie Dean in Phelps Co, MO, on December 26, 1882.  That's surprisingly early!  This was only four months after he was captured while on the run from the Holbrooks.  It was just two weeks after Nancy Holbrook's child was born back in Traphill.  And this was three months BEFORE he was summoned to appear in court.  Perhaps his absence in court that day was not due to illness, but instead was because he was living 700 miles away in Missouri.
<![if !vml]>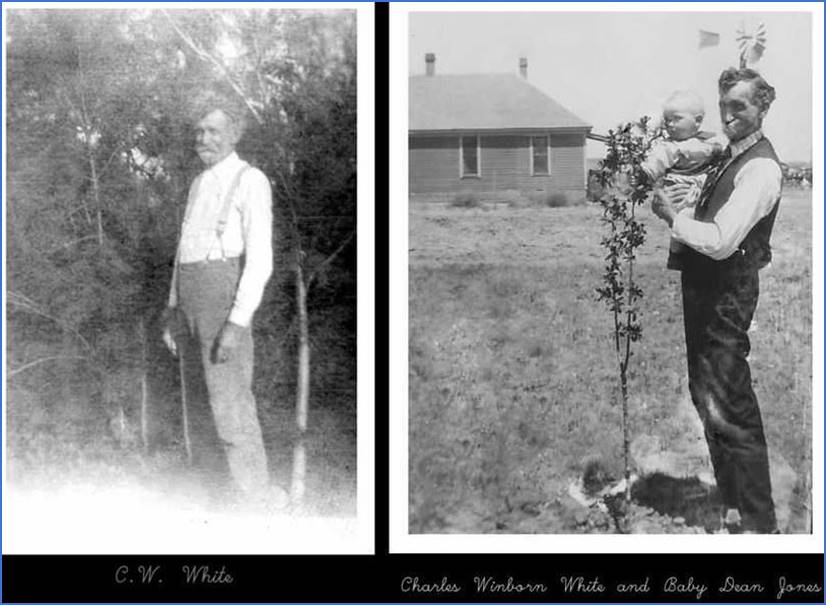 <![endif]>
Photos of Charles White in his later years, from Ancestry
We don't know for sure whether Nancy Holbrook's son was his or not.  The Holbrooks and the Bryans certainly thought he was, but Charles White denied it.  It's possible, as stated in the newspaper article, that Charles and Nancy had planned to get married a year earlier but decided against it.  Then, when Nancy became pregnant, the family just assumed he was responsible.  He was a convenient scapegoat.  After all, he was an outsider, and it was easier to blame him than someone from the community.  Then again, maybe he was the father.  I'm still amazed at how fast he changed his life around.  In August 1892 he was at rock bottom.  He had nearly poisoned himself, he had escaped from the Holbrooks, and he had been seriously threatened by them.  Four months later he's living in Missouri, married, and forming a new school system that would thrive for years to come.  He died in 1942 in Amarillo, TX, at the age of 83.
<![if !vml]>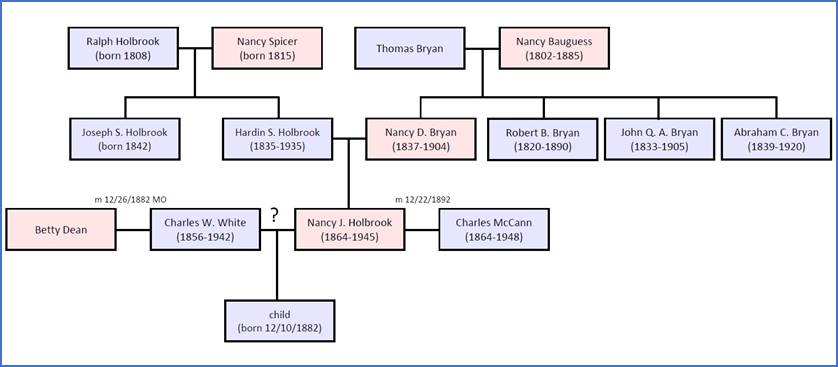 <![endif]>
Holbrook family tree
<![if !vml]>

<![endif]>
Comments?  jason@webjmd.com