Wilkes
October 15, 2021
The Outlaw John Bauguess
When the men arrived at the home of John Bauguess on that October night in 1906, they found him sitting inside the house with his four-year-old son sitting on his lap.  His wife Rosa Bell was lying in bed covered in blood after being shot just above the heart.  Their one-year-old daughter Flora was sitting near her mother.  John was so numb to what had happened, that he didn't try to leave before the men arrived.  One of those men was Gaston Mullins, Rosa Bell's father.  He said to John, "Didn't I tell you if you didn't quit your way of [drinking] that you would destroy some of your family?"  John replied, "Yes". 
Gaston said, "Now you've killed your wife."  John said, "No I didn't; someone else did."
Gaston said, "Don't you lie to me.  You killed her."  Gaston stepped back and drew his .45 caliber Colt and said to his daughter's husband, "I think I will fill you full of lead."  A friend quickly intervened and talked Gaston out of shooting John because it would only get him into trouble of his own.  That's when John confessed what he had done.
This tragic story was recounted in the book Schooldays of a Backwoodsman by Daniel Bartley Hollyfield who was there on that night in 1906.  He grew up in Bold Camp near the town of Pound in Wise County in southwest Virginia.  An excerpt from the book was sent to me by my cousin Margaret Sturgill a few years ago, and we were curious about who this John Bauguess was.  Could he be our relative?
<![if !vml]>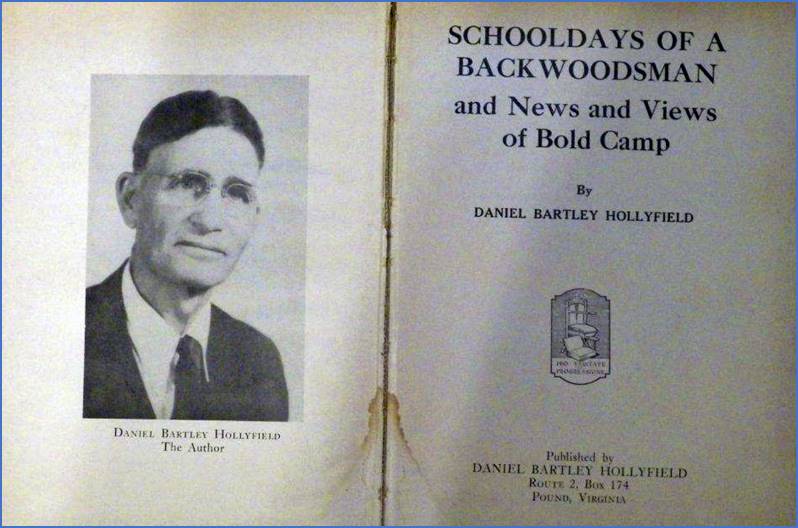 <![endif]>
Daniel Bartley Hollyfield (1885-1976) was the author of Schooldays of a Backwoodsman, 1930.
In the book, Mr. Hollyfield provided more information about John.  He remembered a boy about 17 years old arriving at Bold Camp on a fall day in 1899.  He was carrying his few possessions on his back and said that he had walked all the way from Traphill in Wilkes County, North Carolina.  That's over 150 miles.  The boy gave his name as John Bauguess, and he said his father was a drunkard who had been mean to his mother.  After his mother died, he decided to leave.  He said he belonged to the church and that his mother's brother was Grant Cothren.  Rev. Grant Cothren (born 1869) was a well-traveled preacher in Traphill, and he would make a good reference for a stranger who had just arrived.  Mr. Hollyfield also wrote that in 1906 John had a sister who lived nearby on Meade Fork of Bold Camp.
On 2/18/1902, John married Rosa Bell Mullins, and they built a house near her parents.  The marriage record is on file in Wise County (page 90), but I haven't seen the actual document.  The transcription lists John's parents as Ballard and S. A. Bonguess.  It says John was 21 years old, born in 1881 in Wilkes County.  I believe John's parents were Sinamon Bowers Bauguess and Sarah A. Bauguess.  Yes, "Sinamon" is a strange name.  I've also seen it written as "Tinamon", but perhaps that was due to bad handwriting.  I can't imagine how he acquired that name or what his mother was thinking when she named him!  Sometimes he is referred to by his middle name "Bowers" which is an improvement I guess.
<![if !vml]>

<![endif]>
The Bauguess family was from Wilkes Co, NC.  Grant Cothren was the half brother of Sinamon Bowers Bauguess, and the half uncle of John.
I wonder if John might have inflated his age by two years when he was married.  Maybe if he claimed to be 21 he didn't need parental approval?  In the 1900 census, he was listed as a servant, age 17, born April 1883, living with the Bart Hollyfield family.  Bart was the grandfather of the author of the book, Daniel B. Hollyfield (1885-1976).  And Rosa Bell was author's first cousin.  She was only 20 years old when she was killed.
In the book, Mr. Hollyfield goes on to describe what they did after finding John in the house.  They took care of Rosa Bell's body, and took John into custody but decided to wait until morning to deal with him.  Three men – including Mr. Hollyfield – were deputized to guard John during the night, but they must have dozed off.  When they woke up, he was gone.  He left without his shoes, and they tracked his footprints over the cold, frost-covered ground leading in the direction of where his sister lived on Meade Fork.  This must refer to John's sister Margaret Ann Bauguess who had recently moved from North Carolina to Wise County with her young children.
<![if !vml]>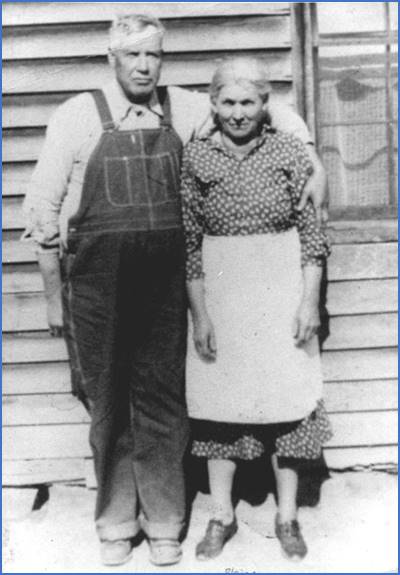 <![endif]>
Margaret Ann Bauguess (1880-1955) with her second husband Robert Meade, perhaps c1940.
When the search party arrived at the house, they stationed themselves on the hill where they expected John to pass.  Soon enough, John appeared.  They jumped from their hiding places and shot over his head to scare him, expecting him to immediately surrender.  Unfortunately, that's not what happened.  John jumped forward and landed about twenty feet down the hill before the men knew what had happened.  He continued up the next hill and jumped over a cliff that was too high for his pursuers.  Instead of jumping, they went around the cliff and saw John near the top of the next hill at least a hundred yards away.  Mr. Hollyfield took this opportunity to carefully aim his rifle, and he fired.  He assumed he had missed before seeing John disappear over the hill side.  They searched, but never saw him again.  Read Mr. Hollyfield's entire first hand account here.
Two Decades Later
The story appeared in the 2/21/1937 edition of the Kingsport Times out of Kingsport, TN, on page 2.  The article looked back on the tragic events from 25 years ago (it had actually been 21 years) and while it's similar to the story written by Mr. Hollyfield, there are a few details that are worth sharing.  It says that John arrived from North Carolina and sought employment in the lumber business on Bold Camp Fork of Pound River.
Regarding the events of that terrible night, the article says the men arrived at the Bauguess home to find Rosa Bell shot dead, her two children sleeping by her side, and John sitting in the middle of the floor with his revolver in hand.  He was mumbling that his wife had been shot when she went to the door to investigate a noise.  During the night, John slipped from between two sleeping guards and escaped in his underwear and barefoot in the direction of another house where he secured clothes and shoes.  A six-member posse tracked him and had him surrounded on a hill.  But when they announced themselves, he bounded down the hill and over a cliff that was 50 feet high moaning, "Lord have mercy on me!"  Upon seeing him on the opposite hill, one of the men took aim and saw John go down before crawling out of sight.  The search later revealed a pile of bloody leaves where he might have been, but he was never found. 
<![if !vml]>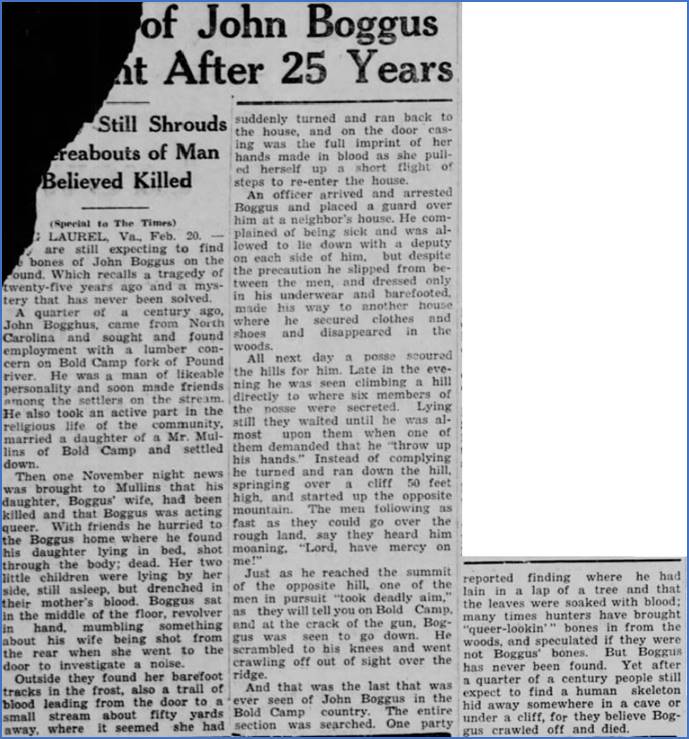 <![endif]>
Kingsport Times, 2/21/1937, page 2 (click for larger version)
The two young children of John and Rosa Bell were 4-year-old Ralph and 1-year-old Flora.  They were raised by their mother's parents, Gaston and Nancy Mullins.  Ralph died in 1921 at the age of 18 from pneumonia.  Flora married, had children, and died in 1991 at the age of 85.
<![if !vml]>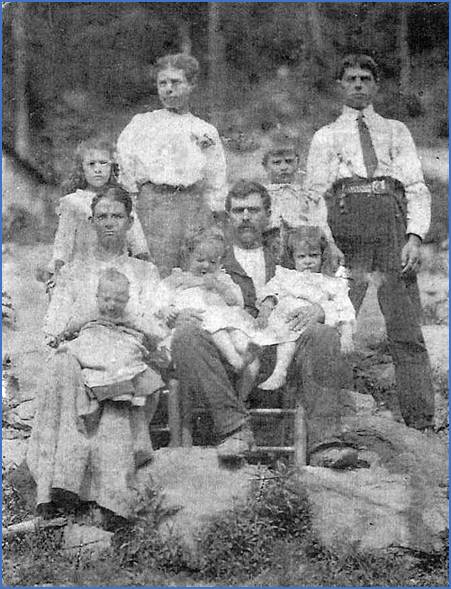 <![endif]>
Family of Gaston Mullins in 1907, months after the murder (from Ancestry).
Standing:  Vondia, Aloria, grandson Ralph Bauguess (born 1902), and David Bartley.
Sitting: Nancy Ann (wife) holding Narvil, Gaston holding Elsie and granddaughter Flora Ann Bauguess (born 1905).
Did He Do It?
Reading the accounts written by Hollyfield and published in the Kingsport Times, it certainly sounds like John was guilty.  Mr. Hollyfield wrote that John confessed soon after his father-in-law Gaston Mullins resisted the urge to shoot him.  But I've heard that some people in town thought he was innocent.  They would argue that John only ran because he knew that he'd be found guilty.  While this is already a terrible and sad story, it gets worse because Rosa Bell was pregnant when she was killed.  There was a rumor that she knew the child wasn't John's and that she was planning to confess and tell him so.  But this "other man" had other ideas.  Rather than face John's outrage, he shot her to prevent her from revealing the truth.  Maybe John was so drunk when he arrived home, that he wasn't thinking clearly and was unable to adequately defend himself.
Mr. Hollyfield wrote that John's gun was hanging on a hook on the wall with one empty chamber.  The newspaper article said that John was holding his gun when the men arrived.  This seems like an important discrepancy.  Whether he killed his wife or not, it does sound like John was shocked by what had occurred that night.  He understandably believed that he would be found guilty, and so he decided to run.
Did He Get Away?
Did John Bauguess die on the mountain top like Gen. Cornwallis did at the Battle of Kings Mountain?  Or, did he escape?  We don't know for sure, but it is curious that a man named James Franklin Bauguess appeared in Flagstaff, Arizona, as early as 2/3/1908 just 16 months after the murder in Wise County, Virginia.  He was about the same age as John.  Could it be that John changed his name to James while he was on the run?
On 9/11/1918, this same James Franklin Bauguess filed for military service during WWI as all men under the age of 45 were required to do.  He gave his birth as 10/18/1879, age 39, living in Flagstaff.  His closest relative was listed as Anna Bauguess of Lomax, Wilkes County, NC.  Is this his sister Margaret Ann?
This James F. Bauguess died in Arizona on 11/12/1941.  His death certicate says he was born 10/18/1879, the son of Bowers and Sarah Bauguess.  These are the same parents as the man who lived in Wise County, Virginia, but after looking at him more closely, I don't think he's the same man.  I think that James Franklin Bauguess (born 1878) and John Bauguess (born 1883) were brothers who would suffer similar fates.
I initially thought John and James must be the same man because sightings of them never overlap.  In the 1880 Wilkes census, James F. appears as a 2-year-old with his parents and younger sister Margaret.   The next sighting is in Wise County, Virginia, where John (born 1883) is found there between 1899 and 1906.  Then, we skip ahead one more time to 1908 when James Franklin (born 1879) is found in Flagstaff, Arizona, where he remained until his death in 1941.  I wasn't able to find James in the 1900 census, perhaps because he was traveling somewhere between North Carolina and Arizona.
<![if !vml]>

<![endif]>
The 1880 Wilkes County census lists the family of Sinamon B. Bauguess including his wife Sarah and their children James F. and Margaret A.
Reasons NOT to think they are the same person are simply their names and ages.  The baby in the 1880 Wilkes census and the man in Arizona consistently refer to James who was born in 1878 or 1879.  The man in Wise County, Virginia, is always John who was born between 1881 and 1883.  And if the outlaw John had escaped all the way to Arizona and gone to the trouble to change his name, surely he would have been careful enough not to reveal where he was from and the names of his sister and parents.
James Franklin Bauguess
Assuming that these are, in fact, two different men, James Franklin Bauguess also faced a tragic and violent end.  Like his brother John, he must have had a strong desire to leave Wilkes County.  Their father Sinamon was mean, and home was not a happy place during their childhood.  The family story is that he threw their mother Sarah into a fire and she died from the infection.  That would have been between 1883 and 1888 because Sinamon Bowers Bauguess married his second wife Sarah Ann Dickerson in April 1888.  It's easy to understand why the children would want to leave those memories behind – both physically and emotionally.
James first appears in Coconino County, Arizona, in the newspaper in February 1908 when he is listed as having earned bounty money for capturing wild animals.  In the 1910 census, he was listed as 34 years old, single, and "cowboy" was his occupation.  As mentioned above, he registered for military service in Flagstaff in 1918.  The 1930 census listed him as 52 years old, having been married for two years with no children.  The 1940 census lists him living with his second wife and her son from a previous marriage.  He doesn't appear to have had any children of his own.
On 9/12/1941, James was charged with attempted murder after shooting and wounding another rancher named Roscoe Gates.  An eyewitness said that James drove out to Gates' ranch with the intent to shoot him, perhaps over some unreported dispute.  James shot him through the side, then held the gun against Gates' head.  The eyewitness talked James out of pulling the trigger again by convincing him that Gates was already dead.  James then got back in his car and drove to Flagstaff to turn himself in.
<![if !vml]>

<![endif]>
Tucson Daily Citizen, 9/12/1941, page 2.
Five weeks later, on 11/12/1941, James Bauguess died from a self-inflicted gun shot.  Perhaps he couldn't handle the stress, consequences, or guilt of his murder attempt on Roscoe Gates.  His death certificate lists his 1879 birth date as well as parents Bowers and Sarah Bauguess.
It's noteable that both James and his younger brother John had similar experiences with threatening to shoot someone with a gun, although their roles were reversed.  James held a gun to the head of a man that he threatened to kill after already shooting him once in the side.  It was 35 years earlier and 2,000 miles away that John had had a gun pointed at him by his father-in-law who threatened to kill him for the murder of his daughter.  In both cases, a calming bystander convinced the armed man to stand down.
William Thomas Bauguess
There's one child of Bowers and Sarah Bauguess who has not been mentioned yet, and that is William Thomas (Bill) Bauguess who must have been the third of the four children.  Not much is known about him, and that's probably a good thing.  Perhaps he led a more quiet life, or maybe I just haven't looked in the right places.  He married Betty Crawford in 1901 and they lived in Thurmond near the Wilkes/Surry county line.  They had at least two children, and he died in Surry County in 1975.  That wasn't too long ago, and you can't help but think of the stories he could have told about his brothers and parents.
<![if !vml]>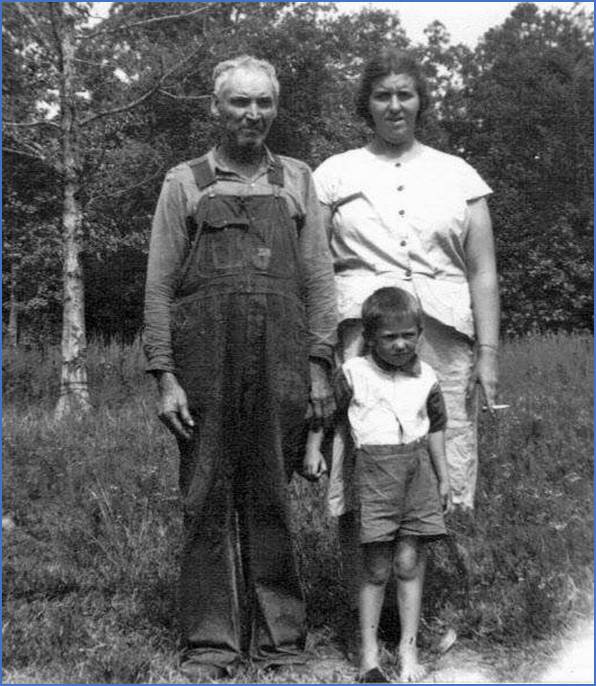 <![endif]>
William Thomas (Bill) Bauguess in 1949.  The lady and boy are unknown.
In 1949, relatives from Wise County came down to visit their cousins in Wilkes County.  Along with sharing the information from Mr. Hollyfield's book, Margaret Sturgill shared family photos that were taken during that visit.  Among the relatives that they visited was Bill Bauguess who would have been about 67 years old at the time.
We might never know what happened to young John Bauguess.  He might have died deep in the woods near his home from wounds suffered during his final escape.  Or, he might have taken on a completely new identify in another state.  His neighbors said they never heard from him again, but we'll be on the lookout just in case any evidence shows up.
<![if !vml]>

<![endif]>
Comments?  jason@webjmd.com